Outdoor Festival featuring Voodoo Visionary
@1127 White CIR NW, Marietta, Georgia 30060
The Hunt House
Outdoor Spring Fest at the foot of Kennesaw Mountain
Voodoo Visionary
Brad Parsons & Friends
Donna Hopkins Band
$20 Advance
$22 Day of Show
Grizz Fest 2019
@887 W Marietta St NW, Ste C, Atlanta, Georgia 30318
Terminal West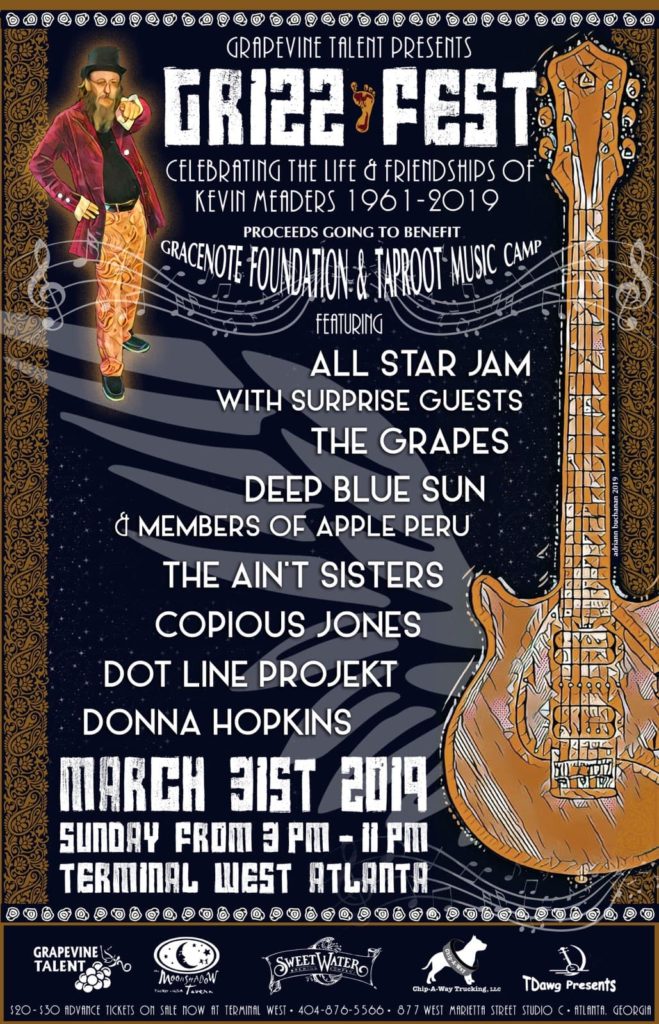 Celebrating his life and the music he loved~
Donna Hopkins Band
Dotline Projekt
Copious Jones
Ain't Sisters
Deep Blue Sun with members of Apple Peru
The Grapes
Cleburne Jam. with Surprise Guests
$20 advance $30 At The Door 18+
This is a non-profit event with proceeds directly going to the Gracenote Foundation and Taproot Music
Steady Hand Beer Co. w/Brad Parsons
@1611 Ellsworth Industrial Blvd. Suite F, Atlanta, Georgia 30318
Steady Hand Beer
FREE SHOW! This Friday 3.29.19 with Brad Parsons and Donna Hopkins. Music starts at 5 – don't miss it!
From The Earth Brewing Co.
@1570 Holcomb Bridge Rd, Roswell, GA 30076
From The Earth Brewing Company
7:00 to 10:00 pm
Free Admission
Alzheimer's Music Fest @ Skipper's Smokehouse
@910 Skipper Road, Tampa, FL 33613
The Grateful Fed Pub, w/members of Cope
@711 3rd Avenue S., St. Petersburg, FL 33705
The Grateful Fed Pub
Donna jams with Dennis, Dave, and Kenny of the band Cope!
SHOW WILL START PROMPTLY AT 8PM
ELECTRIC SET from 8-9:30
ACOUSTIC SET from 10-11:30
Full menu and drink specials
Isis Music Hall Lounge
@743 Haywood Rd, Asheville, North Carolina 28806
Isis Music Hall
Limited Tables Available with a Dinner Reservation. All Other Seating is First Come First Serve General Admission.
Tickets $12. Get them early!
Boyd's Jig and Reel
@101 S Central St Knoxville, TN 37902
Boyd's Jig and Reel
No cover!
From The Earth Brewing Co. w/Ralph Roddenbery
@1570 Holcomb Bridge Rd, Roswell, GA 30076
From The Earth Brewing Company
6:30 to 9:30 pm
The Hunt House
@1127 White CIR NW, Marietta, Georgia 30060
The Hunt House
Donna Hopkins solo, opening for Brad Parsons and Starbird